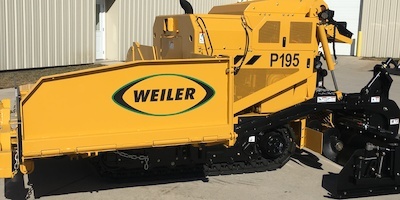 BUILT FOR PRODUCTION.
Engineered and built with versatility
in mind, the Weiler P195 incorporates
proven designs with new innovations
to provide performance, reliability and
outstanding mat quality in a wide range of
applications.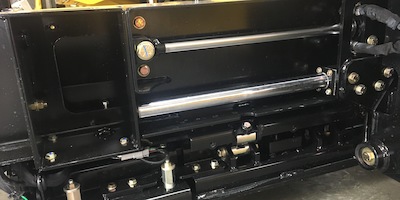 VERSATILE SCREED.
The Weiler designed screed delivers
outstanding mat quality and a wide paving
range. The 3' 10" (1.16 m) front mount
screed is hydraulically extendable to
7' (2.13 m) and 9' (2.74 m) with bolt-on
extensions.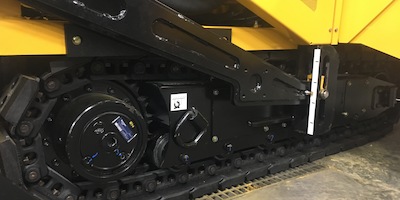 SMOOTH RIDE.
80" (2032 mm) track length with 64"
1625 mm) of ground contact and 125 mm
track chain pitch provides smooth ride
and excellent flotation. Automatic track
tensioning ensures performance and
maximizes component life.
Remote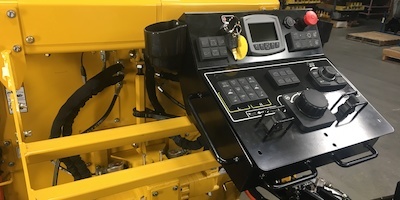 VISIBILITY AND CONTROL.
All controls are located on a single panel
within easy reach of the operator. The
sliding control console enhances operator
ease of use and visibility to either side of
the machine.
NARROW DESIGN.
The 46" (1.16 m) track width and 3' 10"
(1.16 m) screed allows the P195 to fit within
a 4' (1.2 m) cut for a true 4' (1.2 m) paving
width. The hopper folds up for an overall
machine width of 4' 7" (1397 mm) for
simple transport and access to tight
working environments.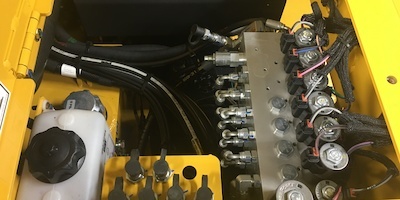 FAST SERVICE.
Remote grease lines, spray down system
with 5 gal (19 L) tank and coiled hoses,
three engine access doors and Caterpillar
dealer service and support keep your
machine up and running with limited down
time.
| | Specifications |
| --- | --- |
| Weight | 13,000 lb (5896 kg) |
| Length | 15' (4572 mm) |
| Width | 55" (1397 mm) |
| Height | 69" (1752 mm) |
| Truck Clearance | 20" (508 mm) |
| Auger Diameter | 12" (305 mm) |
| Screed Weight | 1,800 lb (816 kg) |
| Main Plate Width | 16.5" (419 mm) |
| Extension Plate Width | 9" (228 mm) |
| Screed Heat | Electric - 4 elements |
| Vibration | 1 x 2500 vpm |
| Max Auger Speed | 90 rpm |
| Engine | Cat® C2.2 Tier 4F/Stage V |
| Paving Speed | 233 fpm (71 mpm) |
| Transport Speed | 350 fpm (106 mpm) |
| Fuel Capacity | 25 gal (94 L) |
| Hydraulic Capacity | 30 gal (113 L) |
| Spray Down Capacity | 5 gal (18 L) |