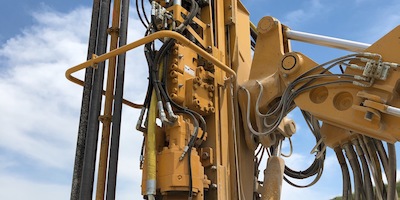 RELIABLE DRIFTER.
The HPR5128 drifter provides low cost of ownership and reliability through a simple design with high strength materials. Auto lube system along with field serviceability increases productivity. HPR6030 and HPR6832 drifters also available.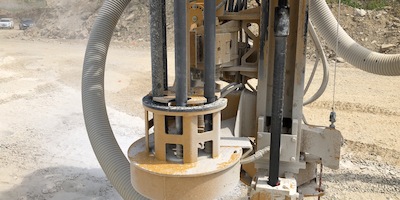 CAROUSEL ROD CHANGER.
The six rod carousel holds 51 mm, 60 mm or 68 mm diameter rods with a multi-pass hole depth of 102' (31.1 m). The precise positioning function indexes and locks, eliminating switches and sensors that are failure prone due to the elements and vibration.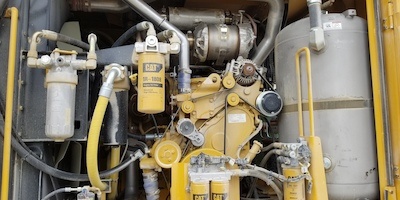 MORE POWER.
The power group delivers fast cycle times and maximum efficiency with a combination of 550 ft3/min (15.6 m3/min) air capacity, 375 hp (280 kW) Cat® C9.3B engine and an oversized cooler to keep all systems operating at optimal temperatures.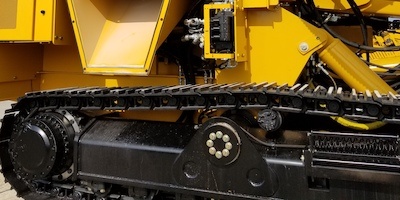 DURABLE COMPONENTS.
The frame and robust undercarriage provide durability for the demands of drilling and navigating rough terrain. The frame supports the upper machine weight with excellent maneuverability due to its low center of gravity, high ground clearance and independent track oscillation.
OPERATOR COMFORT.
The cab provides a quiet and comfortable work environment for drill operation. The cab features superior safety features, high visibility safety glass and responsive controls that minimize fatigue.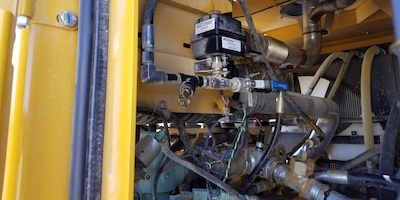 FAST SERVICE.
Maintenance friendly designs feature safe and efficient service access with logically located components. Caterpillar dealer service and support keep your machine up and running.
| | Specifications |
| --- | --- |
| General Specs | |
| Hole Diameter | 3.5" - 6" (89-152 mm) |
| Max Hole Depth | 102.5' (31 m) |
| Engine | Cat® C9.3 Tier 4F/Stage V |
| Horsepower | 375 hp (280 kW) |
| Compressor | 550 ft3/min (15.6 m3/min) |
| HPR5128 Drifter | 38 hp (28 kW) |
| _________________________________________________________________ | _________________________________________________________________ |
| Boom System | |
| Boom Length | 9' (2.7 m) |
| Boom Extension | 3' (0.91 m) |
| Boom Swing | 23.7° L to 34.6° R |
| Boom Lift Above Hor. | 50° |
| Boom Lift Below Hor. | 29° |
| Ext. Offset Feed Table | 3' (0.91 m) |
| Feed Swing | 35° L to 37° R |
| _________________________________________________________________ | _________________________________________________________________ |
| Dimensions | |
| Operating Length | 27' 5" (8.3 m) |
| Operating Height | 30' (9.1 m) |
| Operating Width | 10' 6" (3.2 m) |
| Tramming Length | 34' 2" (10.4 m) |
| Tramming Height | 12' (3.6 m) |
| Shipping Length | 36' 9" (11.2 m) |
| Shipping Height | 11' 4" (3.4 m) |
| Shipping Width | 8' 6" (2.6 m) |
| Shipping Weight | 48,500 lb (21999 kg) |
| _________________________________________________________________ | _________________________________________________________________ |
| Undercarriage | |
| Grouser Pads | 15" (380 mm) |
| Ground Clearance | 16" (406 mm) |
| Track Gauge | 80" (2032 mm) |
| High Tram Speed | 2.7 mph (4.3 km/h) |
| Low Tram Speed | 1.7 mph (2.7 km/h) |
| Track Oscillation | ±10° |
| _________________________________________________________________ | _________________________________________________________________ |
| Feed System | |
| Steel Channels (2) | 7" (177.8 mm) |
| Pitch Roller Chain | 1.5" (38.1 mm) |
| Gearbox Drive Speed | 121 fpm (36.9 m/min) |
| _________________________________________________________________ | _________________________________________________________________ |
| Carousel Rod Changer System | |
| Rod Length | 12'/14' (3.6 m/4.3 m) |
| Rod Diameters | 51 mm/60 mm/68 mm |
| Starter Rod | 20' (6.1 m) |
| Single Pass Depth | 18' 6" (5.63 m) |
| Multi-Pass Depth | 102' (31.1 m) |
| _________________________________________________________________ | _________________________________________________________________ |
| HPR5128 Drifter | |
| Output Energy | 37.5 hp (28 kW) |
| Motor Torque | 1,500 lbf-ft (2033 N-m) |
| Weight | 912 lb (414 kg) |
| Rod Diameters | 51 mm |
| Blow Rate | 2500-2700 bpm |
| Percussion Pressure | 2,900 psi (200 bar) |
| _________________________________________________________________ | _________________________________________________________________ |
| HPR6030 Drifter | |
| Output Energy | 40 hp (30 kW) |
| Motor Torque | 1,500 lbf-ft (2033 N-m) |
| Weight | 912 lb (414 kg) |
| Rod Diameters | 51 mm/60 mm |
| Blow Rate | 2500-2700 bpm |
| Percussion Pressue | 2,900 psi (200 bar) |
| _________________________________________________________________ | _________________________________________________________________ |
| HPR6832 Drifter | |
| Output Energy | 43 hp (32 kW) |
| Motor Torque | 1,500 lbf-ft (2033 N-m) |
| Weight | 912 lb (414 kg) |
| Rod Diameters | 60 mm/68 mm |
| Blow Rate | 2500-2700 bpm |
| Percussion Pressure | 2,900 psi (200 bar) |