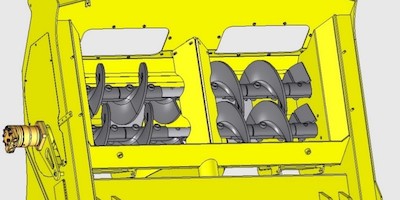 UNMATCHED REMIX.
Weiler's patented, twin-interlaced auger
system provides a true remix with superior
reduction of particulate and thermal
segregation while processing up to
600 tph (544 mtph).
MATCH PAVING OUTPUT.
The variable speed elevator and discharge
conveyor match plant output while
reducing wear. By setting chain speed
to match production, the number of
revolutions of the chain are reduced and
larger packets of mix are carried with each
slat, reducing material segregation.
LOWER COST OF OPERATION.
One elevator and one conveyor reduces the
number of wear items, and cost. The E1250B
delivers higher margins with lower cost-perton
of asphalt placed, with equal productivity
compared to competitive models.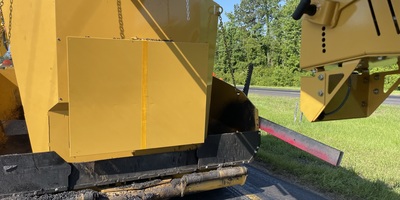 PAVER HOPPER MANAGEMENT.
An optional sonic sensor maintains the
level of material in the paver hopper by
adjusting the speed of the elevator and
conveyor. The distance to paver radar sets
and maintains the distance to the paver
and can be engaged from a stopped or
moving position. Auto center option maintains conveyor over center of hopper.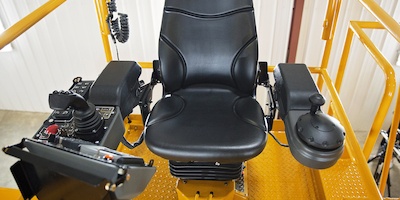 COMPLETE CONTROL.
The 24" (610 mm) shifting operating
platform and ergonomic controls provide
the operator with excellent visibility and
comfort. The operator station shifts sideto-
side and features a high-back, heated
suspension seat that rotates 357°.
DESIGNED AROUND CLEANOUT.
Full-width, hydraulic drop down floors
along with hydraulic clean-out doors for the
remix chamber provide unmatched access
for daily clean-out and inspections. With
the addition of the optional internal spray
down system for chains and sprockets, the
E1250B is designed to simplify the critical
daily clean-out process.
| | Specifications |
| --- | --- |
| Weight | 53,400 lbs (24,222 kg) |
| Transport Height | 11' 5" (3505 mm) |
| Transport Length | 43' 7" (13 284 mm) |
| Transport Width | 9' 10" (2997 mm) |
| Working Height | 12' 6" (3810 mm) |
| Engine | Cat® C7.1 Tier 4F/Stage V |
| Horsepower | 250 hp (168 kW) |
| Transport Speed (Max) | 9.8 mph (15.8 kph) |
| Working Speed (Max) | 202 fpm (61 mpm) |
| Conveyor Capacity | 600 tph (544 mtph) |
| Conveyor Slat Width | 36" (914 mm) |
| Elevator Capacity | 600 tph (544 mtph) |
| Elevator Slat Width | 56" (1422 mm) |
| Fuel Tank Capacity | 130 gal (492 L) |
| Hydraulic Tank Capacity | 50 gal (189 L) |
| Turning Radius | 19' (5.8 m) |
| Ground Drive | 4-wheel hydrostatic w/ 3 speeds |
| Tires | High Flotation 17.5 " x 25" 20 ply (444.5 mm x 635 mm) |